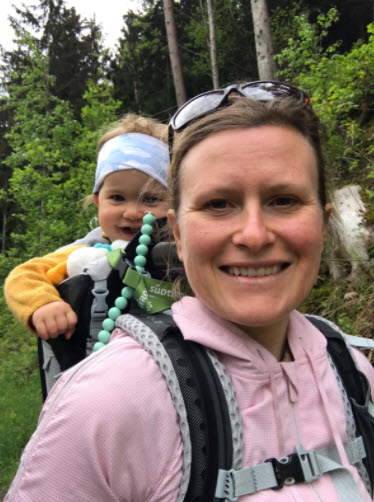 " I am most looking forward to engagement with both the Women in Travel Thrive and the Day of Impact as I feel there is so much value in sharing our journeys and stories openly so others can leverage learnings for their own path. This is how we move forward faster; together!"
Be Brave. Be Bold. This is my story. Born and raised in a small Canadian farming community, the world and what it offered seemed to be within a 60 mile radius of my family's home. That said, it was not encouraged as a little girl to consider owning or managing the family farm, so options seemed limited. I knew something else was out there. Thankfully I was surrounded by strong and independent women who had made their own path. Both of my Grandmothers had University degrees, and travelled the world exploring even after their partners had passed. My mother had to choose many times between progression of her career and her family – the family won. It was only once her 3 children were grown that she felt ready to carry on and achieve the career success she rightfully deserved. And so, this formed my own view of what decisions I would make.
And so, I went all in. I moved to Switzerland at the age of 18, and Malaysia after my undergrad. While my family had travelled for leisure, these experiences opened my eyes to how diverse and exciting the world could be. It taught me to have confidence in my strength, and at the same time, established for me a sense of will power. As a woman, I was faced with relentless adversity and realized that we had a long way to go to reach equality in gender and race. Upon return to Canada, I sought opportunities which would show I was serious about my career. I soon learned that I needed to follow my heart to see success and against the advice of many, took a leap into the Tourism Industry –taking a significant pay and role reduction to do so, I have never looked back. I was surrounded by strong and independent women who exemplified to me determination and drive. I focused fully on growing my skills as I moved through roles in the industry and furthering my education. I was laser focused and while I wanted to also build a family, it was never the right time in my career. I was cautious to even mention family as a goal for fear it would be perceived that I was not committed. There would always be later, I thought, once I was established. What I had not considered was factors out of my control and so when I was finally ready to become a mother, the universe had other ideas. Instead of focusing my determination on one goal, I simply doubled my effort to ensure my career didn't falter due to my family ambitions. I was too timid to share with colleagues or friends as I was scared I would be considered as less serious or focused. The result was my two worlds colliding as I found myself expecting at the same time as we were moving overseas for the career opportunity I had dreamed of. While not ideal, I made it "work", and am so thankful for all it has brought me and my family. I will be proud one day to share with my daughter my story of determination. Great challenge offers great reward but you need to be prepared for the hurdles along the way. My hope is that other women find value in my story as they feel they need to make choices between family and career. This is my story….it is our story.