Join us for an interview with Sylvia Lee, THRIVE HIVE member in our APAC team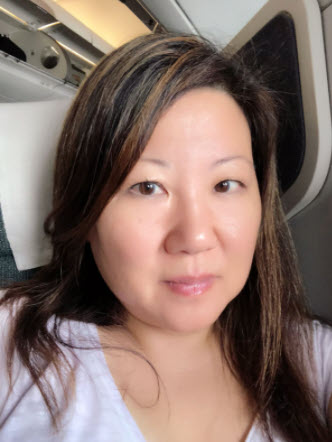 Hi Sylvia! Let's start by hearing all about your day job:
My title is Head of Sales & Marketing, LKF Group, which means I wear a lot of hats! Our team works on marketing and sales driven programs for our hotel business unit, including Andara Resort and the upcoming Aquella Resort & Golf Club, as well as hospitality and new property developments in Asia's most well known entertainment district, Lan Kwai Fong.
Sounds like fun! Can you share with us the best career advice you've received?
Your career journey isn't always a straight line.
Sounds cliche but absolutely true for me. When I first started my career, I was taught that you need to do abc to get to def and so on, but that simply isn't true. You can't live by someone else's idea of a career journey, so trust yourself and doors will open.
What do you do when you aren't working?
In normal times, I'm on a plane, ferry or train! I live to travel, which is tough for anyone in Hong Kong for the past two years. I am truly grateful I haven't had to suffer like a lot of others have, but personally speaking, no travel is a bit of a mind mess. Since the pandemic started, I've had to make a conscious effort to really explore all that HK offers, which is quite a lot more than meets the eye, from untouched beaches to spectacular experiences popping up all over the HK islands, it is really incredible!
What is your favorite thing about THRIVE?
Hands down, the people! I have the privilege of meeting the most incredible, inspiring people who just truly want to connect and help others to learn and grow in the travel industry. Every single interaction just makes me want to try to have even a thimble's worth of what they are having! The APAC Hive is just starting up and I really hope we can help more women & their allies grow their careers in this part of the world.
Where do you live?
Central, Hong Kong Island with my husband for about 5 years. I moved to Macau from San Francisco 10 years ago, and I'm so grateful to the THRIVE global members that are super welcoming and keep me connected to the rest of the travel world, especially back home in the States.
Tell us your very favorite travel story or location, to wrap up our chat
Too many to choose from, but let's go with being able to enjoy travel perks like long weekend surf trips to Hawaii with a coworker-turned-best-buddy when I worked for Travelocity! I am a huge Hawaii fan, and I'm itchin to get back there.